John Baldwin (born 3 January 1946), known by the stage name John Paul Jones, is an English multi-instrumentalist, songwriter, composer, arranger and record producer. Best known as the bassist, keyboardist, and co-songwriter for English rock band Led Zeppelin, Jones has since developed a solo career. A versatile musician, Jones also plays guitar, koto, lap steel guitars, mandolin, autoharp, violin, ukulele, sitar, cello, continuum and the three over-dubbed recorder parts heard on Led Zeppelin's "Stairway to Heaven".
According to Allmusic, Jones "has left his mark on rock & roll music history as an innovative musician, arranger, and director." Many notable rock bassists have been influenced by John Paul Jones, including John Deacon, Geddy Lee, Steve Harris, Flea, Gene Simmons, and Krist Novoselic. Jones is currently part of the band Them Crooked Vultures with Josh Homme and Dave Grohl, in which he plays bass guitar, keyboards, and other instruments.
At Led Zeppelin, he was responsible for the classic bass lines of the group, notably those in "Ramble On" and "The Lemon Song" (Led Zeppelin II), and power crunch and shifting time signatures, such as those in "Black Dog" (Led Zeppelin IV). As Led Zeppelin's rhythm section-mate with drummer John Bonham, Jones shared an appreciation for funk and soul rhythmic grooves which strengthened and enhanced their musical affinity. In an interview he gave to Global Bass magazine, Jones remarked on this common musical interest:
"Yeah, we were both huge Motown and Stax fans and general soul music fans, James Brown fan. Which is one of the reasons why I've always said that Zeppelin was one of the few bands to "swing". We actually had a groove in those days. People used to come to our shows and dance, which was great. To see all the women dancing, it was really brilliant. You didn't necessarily see that at a Black Sabbath show or whatever: So we were different in that way. We were a groovy band. We used all our black pop music influences as a key to the rock that went over the top.
Three great albums to illustrate his career:
John Bonham – drums, percussion
John Paul Jones – bass guitar, keyboards, Mellotron
Jimmy Page – electric guitars, backing vocals, Theremin, production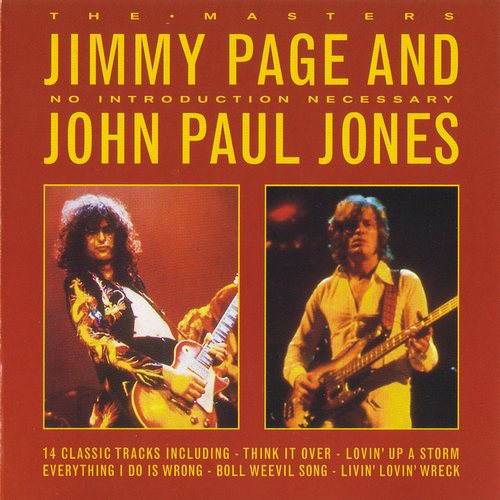 A rare record, with Jimmy Page and Mr. Jones...
And a very exotic album of Mr. Jones and an opera singer. The Sporting Life is an album by singer Diamanda Galás and multi-instrumentalist John Paul Jones, recorded in London and released in 1994.