Mais um post de minha banda preferida... Na minha opinião, os melhores álbuns do Rush são ao VIVO. Como três caras conseguem fazer um som desta qualidade? E por tanto tempo... O trio toca junto há 40 anos (Neil Peart um pouco menos, pois entrou a partir do segundo álbum) e tem uma incontestável obra... Todos os álbuns são excelentes. Divido o Rush em duas fases, Pré e Pós Moving Pictures. A fase Pré é marcada pelo Hard Rock, pelos riffs distorcidos e pela obra prima YYZ. Na segunda fase, Geddy Lee introduz teclados mais elaborados, Alex Lifeson diminui o distortion, tirando um pouco de peso da guitarra e o grande Neil Peart adiciona elementos eletrõnicos a sua poderosa batera. O som fica mais leve, mas com o primor de sempre, e muito mais técnico. O melhor mesmo é ouvir tudo isso...
In 1974 Rush released their self-titled album. Shortly after that, in August, they played a gig in Cleveland at the Agora Ballroom, which was recorded live for the FM station, WMMS[1]. The concert was eventually released as an unauthorized live bootleg called The Fifth Order of Angels.
Drummer Neil Peart joined the band on July 29, 1974, approximately one month prior to this recording. He replaced founding drummer, John Rutsey.
According to the liner notes, this live album (Rush's first) marks the end of the "first chapter of Rush," and would mark the start of a trend of releasing a live album after four studio albums. That trend was broken in the 2000s when the band would release a studio album then a live album from the ensuing tour. Songs like "Bastille Day" and "Anthem" are similar to their studio versions with the addition of Neil Peart's drum solo during "Working Man". All the World's a Stage would be Rush's first US Top 40 charting album and would go gold, alongside A Farewell to Kings and 2112 on November 16, 1977. It was certified platinum in the US in 1981 after the release of Moving Pictures. In Canada, gold certification came on December 1, 1976; platinum on August 1, 1978.
Rush in Rio was the first live album released by the band to not follow the pattern of releasing a live album after every four studio releases, and was also the first to feature a complete setlist without any changes in song order, including Neil Peart's drum solo. It is also the band's first live album that presents a single night's performance in its entirety (not counting the two bonus tracks). In an interview about the album and DVD, Alex Lifeson and James "Jimbo" Barton noted that it took an extended amount of time to mix the sound. This was due to technical difficulties of recording the audio on primitive equipment.
At this concert, Rush played to 40,000, their second largest crowd on the Vapor Trails Tour (the largest crowd was 60,000 at the show the previous night in São Paulo). In a rare departure from the band's practice of re-creating the sound of their studio work when playing live, the song "Resist" (on disc 2) was rearranged into a stripped-down acoustic version between Lifeson and Lee, with Peart sitting out after his drum solo.
Rush - R30 - 30th Anniversary World Tour (2005)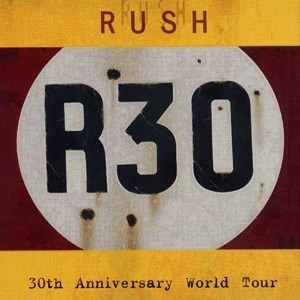 R30: 30th Anniversary World Tour is a live DVD by the Canadian band Rush, that was released on November 22, 2005 in Canada and the U.S. and November 28, 2005 in Europe, therein documenting the band's R30: 30th Anniversary Tour. The DVD was released in a standard and deluxe set. The deluxe version features two audio CDs of the DVD content as well as various interviews and extra live footage.
"R30 Overture" - ("Finding My Way", "Anthem", "Bastille Day", "A Passage to Bangkok", "Cygnus X-1", "Hemispheres") – 6:42
"The Spirit of Radio" – 5:05
"Between the Wheels" – 6:17
"Heart Full of Soul" – 2:44
"2112" ("Overture"/"Temples of Syrinx"/"Grand Finale")/"Xanadu" (abbreviated version)/"Working Man" - 21:19
"Summertime Blues" – 3:41