King Crimson, foi talvez a mais vanguardista das bandas inglesas de rock progressivo entre as que conseguiram sucesso e notoriedade. Surgiu das cinzas do trio Giles, Giles Fripp em 1969 e fez sua estréia nos palcos em julho daquele ano, abrindo nada menos o concerto dos Rolling Stones no Hyde Park em homenagem ao guitarrista Brian Jones, morto um mês antes. A banda com um nome pomposo, King Crimson, em sua primeira formação tinha nada memos que Greg Lake baixos e vocais, Ian McDonald (sopros, mellotron, teclados, vocais de apoio) Peter Sinfield (letras e iluminação), além do metódico Robert Fripp (guitarras) e Michael Giles (bateria, percussão, vocais de apoio). Liderado pelo guitarrista Robert Fripp - gênio, genioso e completamente maluco, o impacto do surgimento da banda foi o mesmo causado pelo Pink Floyd com suas perfomances fantásticas entre 1966 e 1967.
Os dois primeiros álbuns, "In the Court of the Crimson King" (1969) e "In the Wake of Poseidon" (1970) foram elogiados pela crítica, mas não tiveram boa resposta do público. Foi a deixa para que Greg Lake saísse da banda, já que não suportava mais a liderança lunática, autoritária e esquizofrênica de Fripp.
Pesquisando a história do King Crimson, percebe-se que há várias menções sobre o gênio forte de Robert Fripp, ocasionando várias formações e hiatos, porém, produzindo álbuns experimentais e inovadores, com formações diferenciadas de músicos extremamente talentosos ( Adrian Belew,
Tony Levin,
Pat Mastelotto, Gavin Harrison,
Greg Lake
, Peter Giles, Gordon Haskell, Boz Burrell,
John Wetton
, Trey Gunn, Michael Giles, Andy McCulloch, Ian Wallace, Jamie Muir,
Bill Bruford
,
Peter Sinfield
, Richard Palmer-James, Ian McDonald, Mel Collins, David Cross, Keith Tippett, Mark Charig, Robin Miller, Nick Evans,
Jon Anderson
)... Acho que estão todos aí.
Apesar da excentricidade de seu principal integrante, King Crimson é considerada uma banda influente, e tem sua lugar na história do Rock Progressivo. Algumas curiosidades encontradas na Internet:
1 - Steve Harris, baixista e principal compositor do Iron Maiden, mencionou que seu trabalho têm influência do King Crimson.
2 - O King Crimson é uma das maiores influências do já falecido guitarrista (da banda canadense de Metal Voivod) Dennis "Piggy" D'Amour".
3 - O nome da banda: King Crimson (O Rei Escarlate), representa o Sol, como é mostrado no disco In the Court of the Crimson King. Com o tempo também foram feitas outras referências como na capa do disco Larks' Tongues in Aspic, entre outras.
4 - Em sua segunda formação, o King Crimson mostrou algo em comum com o nascimento do heavy metal. A guitarra de Fripp tocava mais alto e mais agressivamente, juntamente com uma bateria mais propulsiva de Bruford e uma baixo mais poderoso de Wetton.
5 - No início da década de 80, Fripp iniciou um projeto com Bill Brufford, Tony Levin e Adrian Belew, intitulado Discipline. Esta versão dos Crimson criou alguma semelhança com a new wave, talvez devido ao envolvimento de Belew com os Talking Heads, considerados por muitos como os pais do gênero.
Aponcho Rock
fez um post muito interessante sobre esta época.
Vamos inciar nossa audição com uma coletânea:
1. 21st century schizoid man (7:20)
2. Epitaph (8:45)
3. In the court of the Crimson King (7:19)
4. Cat food (edit) (2:45)
5. Ladies of the road (5:30)
6. Starless (abridged) (4:36)
7. Red (6:16)
8. Fallen angel (6:00)
9. Elephant talk (4:41)
10. Frame by frame (5:07)
11. Matte Kudasai (3:45)
12. Heartbeat (3:53)
13. Three of a perfect pair (4:11)
14. Slepless (remixed) (5:22)
O primeiro álbum:
Disco de estréia da banda. A primeira faixa, "21st Century Schizoid Man", é provavelmente a mais conhecida da banda, contando com vocais distorcidos e uma sonoridade veloz e agressiva por parte da guitarra e do saxofone. O clima muda abruptamente com uma faixa suavemente melódica chamada "I Talk to the Wind". "Moonchild" é uma música psicodélica éterea, que é encerrada com uma improvisação delicada e calma. Tanto "Epitaph" quanto a faixa-título, "In the Court of the Crimson King", apresentam orquestrações com mellotron. Tudo nesse álbum foi considerado inovador (até a capa)...
E também o segundo: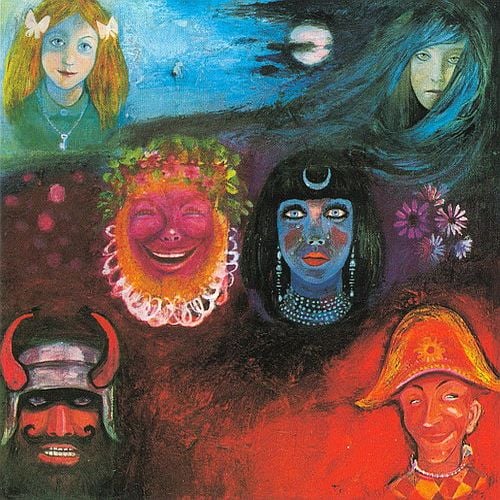 In the Wake of Poseidon é o segundo álbum de estúdio da banda de rock progressivo King Crimson, lançado em 1970. Quando do lançamento do álbum, a banda já havia passado por sua primeira mudança de formação. Ainda assim, "In the Wake of Poseidon" guarda muitas semelhanças com o primeiro álbum da banda, "In the Court of the Crimson King". "In the Wake of Poseidon" foi bem recebido por público e crítica, mas foi criticado por parecer demais com o primeiro álbum da banda, tanto em estilo como em conteúdo. Com o álbum à venda, os membros remanescentes Robert Fripp e Peter Sinfield, estiveram na incômoda posição de ter material para divulgar sem ter uma banda para apresentá-lo ao vivo. Fripp convenceu Gordon Haskell a juntar-se definitivamente ao grupo, na posição de vocalista e baixista, e recrutou o baterista Andy McCulloch.

E para finalizar um ao vivo, e um dos que mais ouvi:
B'Boom: Live in Argentina é um álbum ao vivo (bootleg - 2 CDs) lançado em 1995. Todas as faixas foram gravadas entre 6 e 16 de Outubro de 1994, no Broadway em Buenos Aires, Argentina, exceto a faixa "Heartbeat" , gravada em Córdoba. Esta foi a primeira performance ao vivo em dez anos...
Disc one
"VROOOM" – 7:07
"Frame by Frame" (Belew, Bruford, Fripp, Levin) – 5:28
"Sex Sleep Eat Drink Dream"
"Red" (Fripp) – 4:58
"One Time" – 5:45
"B'Boom" – 6:54
"THRAK" – 6:29
"Improv - Two Sticks" (Gunn, Levin) – 1:26
"Elephant Talk" (Belew, Bruford, Fripp, Levin) – 4:25
"Indiscipline" (Belew, Bruford, Fripp, Levin) – 7:38
Disc two
"VROOOM VROOOM" – 6:18
"Matte Kudasai" (Belew, Bruford, Fripp, Levin) – 3:43
"The Talking Drum" (Bruford, David Cross, Fripp, Jamie Muir, John Wetton) – 5:52
"Larks' Tongues in Aspic (Part II)" (Fripp) – 7:31
"Heartbeat" (Belew, Bruford, Fripp, Levin) – 5:02
"Sleepless" (Belew, Bruford, Fripp, Levin) – 6:11
"People" – 5:51
"B'Boom" (reprise) – 4:26
"THRAK" – 5:33
Robert Fripp - guitar
Adrian Belew - guitar, vocals
Tony Levin - bass guitar, Ned Steinberger upright bass, vocals
Trey Gunn - Chapman stick, vocals
Bill Bruford - drums, percussion
Pat Mastelotto - drums, percussion