Derek William Dick, melhor conhecido como Fish (nascido em 25 de abril de 1958 em Dalkeith, Midlothian), é um vocalista e compositor de rock progressivo e ocasionalmente também ator britânico nascido na Escócia. Após uma breve carreira como jardineiro, tornou-se famoso em 1981 com a banda de rock progressivo Marillion, da qual saiu em 1988. Ele é algumas vezes comparado a Peter Gabriel: possuem timbres vocais parecidos, ambos passaram seis ou sete anos em um destacado grupo de rock progressivo britânico, vestindo maquilagem e fantasias no palco, ambos deixaram o grupo para seguir carreira solo. Além disso, em ambos os casos os fans dos grupos consideram que o período no qual estavam em suas respectivas bandas foram os melhores do grupo. Considera-se que os maiores talentos de Fish eram derivados de suas letras, introspectivas, geralmente lidando com temas pessoais como seus vícios.
Palhinha:
Vigil in a Wilderness of Mirrors (1990) was the first solo album that rock singer Fish released after he departed Marillion in 1988. Although the recordings for this album finished as early as June 1989, EMI Records decided to delay the release until early 1990, to avoid collision with Marillion's album Seasons End (September 1989). However, the track "State of Mind" was released as a single as early as 16 October 1989, more than three months ahead of the album. Further singles from the album were "Big Wedge" (the actual lead single, 27 December 1989), "A Gentleman's Excuse Me" (5 March 1990) and "The Company" (18 July 1990, only released in Germany).
Personnel
Fish (Derek W. Dick) - All Vocals
Frank Usher - Guitars (Tracks 1,2,3,4,6,7,9,10,11,12 and 14)
Hal Lindes - Guitars (1,2,3,4,5,7 and 11)
Janick Gers - Guitars (8)
John Giblin - Bass Guitars (1,2,3,4,6,7,8,9 and 11)
Mickey Simmonds - Keyboards (1,2,3,4,5,6,7,8,9,10,11,12 and 14); Piano (13); Drum Programming (10 and 12)
Davy Spillane - Pipes (1); Whistles (1)
Phil Cunningham - Whistles (1,4 and 11); Accordion (4 and 11); Bodhrán (4)
Aly Bain - Violin (4 and 11)
Gavyn Wright - Violin (4)
Alison Jones - Violin (12)
Mark Brzezicki - Drums (1,2,4,6,7,8,9 and 11)
John Keeble - Drums (3)
Luís Jardim - Percussion (2,3,4 and 9)
Carol Kenyon - Backing Vocals (2,3,7 and 9)
Tessa Niles - Backing Vocals (2,7 and 9)
Segue também um discão, tocando músicas do Marillion...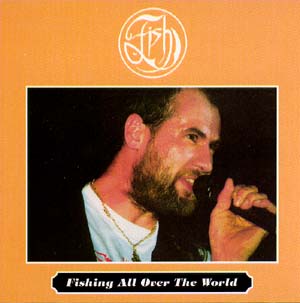 More Fish on Valvulado: