David Bowie, nome artístico de David Robert Jones, Londres, 8 de janeiro de 1947) é um músico, ator e produtor musical inglês. Por vezes referido como "Camaleão do Rock" pela capacidade de sempre renovar sua imagem, tem sido uma importante figura na música popular há cinco décadas e é considerado um dos músicos populares mais inovadores e ainda influentes de todos os tempos, sobretudo por seu trabalho nas décadas de 1970 e 1980, além de ser distinguido por um vocal característico e pela profundidade intelectual de sua obra. Embora desde cedo tenha realizado o álbum David Bowie e diversas canções, Bowie só chamou a atenção do público em 1969, quando a canção "Space Oddity" alcançou o quinto lugar no UK Singles Chart. Após um período de três anos de experimentação, que incluem a realização de dois significativos e influentes álbuns, The Man Who Sold the World (1970) e Hunky Dory (1971), ele retorna em 1972 durante a era glam rock com um alter ego extravagante e andrógino chamado Ziggy Stardust, sustentado pelo sucesso de "Starman" e do aclamado álbum The Rise and Fall of Ziggy Stardust and the Spiders from Mars. Seu impacto na época foi um dos maiores cultos já criados na cultura popular. Em 1973, o disco Aladdin Sane levou Ziggy aos EUA. A vida curta da persona revelaria apenas uma das muitas facetas de uma carreira marcada pela reinvenção contínua, pela inovação musical e pela apresentação visual.
Em 1974, o álbum Diamond Dogs previa, com seu som e sua temática caótica, a revolução punk que surgiria anos depois. Em 1975, Bowie finalmente conseguiu seu primeiro grande sucesso em território americano com a canção "Fame", em co-autoria com John Lennon, do álbum Young Americans. O som constitui uma mudança radical no estilo que, inicialmente, alienou muitos de seus devotos no Reino Unido. Nessa etapa, a carreira musical de Bowie se renovou e seguiu novos rumos. Após a criação de uma nova persona, Thin White Duke, apresentada no aclamado Station to Station (1976), que traz um Bowie interessado em misticismo, Cabala e Nazismo, ele confundiu as expectativas de seu público americano e de sua gravadora com a produção do minimalista Low (1977)—a primeira das três colaborações com Brian Eno durante os próximos dois anos. A chamada "Trilogia de Berlim" (com "Heroes" e Lodger) trouxe álbuns introspectivos que lograram o topo nas paradas britânicas e que ganharam admiração crítica duradoura.
Seguindo o sucesso comercial irregular no final dos anos 70, a canção "Ashes to Ashes" do álbum de 1980 Scary Monsters (and Super Creeps) alcançou o primeiro lugar no Reino Unido e lançou bases para um novo movimento chamado New Romanticism. No ano seguinte, junto à banda Queen, escreveu e cantou a canção "Under Pressure" e em seguida atingiu novo pico comercial com o álbum Let's Dance (1983), que rendeu sucessos com a canção homônima e o fez cativar nova audiência. Ao longo dos anos 1990 e 2000, Bowie continuou a experimentar novos estilos musicais, incluindo os gêneros industrial, drum and bass, e adult contemporary. Seu último álbum de inéditas foi por muito tempo Reality, uma mistura de melancolia e humor, suportado pela A Reality Tour de 2003–2004. Após um período de quase dez anos em hiato, anuncia The Next Day pelo Facebook e pelo seu novo website. Seu novo albúm (The Next Day), está com três indicações ao Grammy (Melhor performance de rock 'Stars Are Out Tonight), Melhor Conteúdo Extra (The Next Day Extra) e melhor álbum de rock.
A influência de David Bowie é única, musical e socialmente. Como escreveu o biógrafo David Buckley, "ele penetrou e modificou mais vidas do que qualquer outra figura comparável."1 De fato, grande é sua influência no mundo da música entre artistas e bandas mais antigas e a nova geração (Ver Influência), e, além de ter auxiliado movimentos como a libertação gay e a recriação de uma nova juventude independente, introduziu novos modos de se vestir na cena musical e tem uma carreira prestigiada no cinema. Em 2002, ficou em 29º lugar na lista popular 100 Greatest Britons e já vendeu mais de 136 milhões de álbuns ao longo de sua carreira. Foi premiado no Reino Unido com 9 certificações de álbum de platina, 11 de ouro e 8 de prata, e, nos Estados Unidos, 5 de platina e 7 de ouro. Em 2004, a Rolling Stone colocou-o na 39ª posição em sua lista dos "100 Maiores Artistas do Rock de Todos os Tempos" e em 23º lugar na lista dos "Melhores Cantores de Todos os Tempos".
David Bowie, respeitado por todos músicos. Suas canções atravessaram as gerações e todos os modismos, sendo sempre de vanguarda. Inovou, criou e influenciou... Nossa reverência a este ícone da música.
Gosto de vários discos do Bowie, mas aqui apresento os que ouvi mais, os que me impactaram pela letra e que me fizeram admirar sua obra.
The Rise and Fall of Ziggy Stardust and the Spiders from Mars (often shortened to Ziggy Stardust) is a 1972 concept album by English rock musician David Bowie. It peaked at number five in the United Kingdom and number 75 in the United States on the Billboard Music Charts. A concert film of the same name directed by D.A. Pennebaker was released in 1973.
Conception and inspiration
The album presents, albeit vaguely, the story of "Ziggy Stardust", the human manifestation of an alien being who is attempting to present humanity with a message of hope in the last five years of its existence. Ziggy Stardust is the definitive rock star: sexually promiscuous, wild in drug intake and with a message, ultimately, of peace and love; but he is destroyed both by his own excesses of drugs and sex, and by the fans he inspired. In interviews, Bowie has said that the real-life inspiration for Ziggy was chiefly Vince Taylor, though the lyrics hint at Jimi Hendrix ("played it left hand ... jiving us that we were voodoo") and the character was likely a composite. Bowie claimed that the name came from a tailor's shop in London called Ziggy's. He later told Rolling Stone it was "one of the few Christian names I could find beginning with the letter 'Z'". "Stardust" comes from one of Bowie's labelmates, a country singer named Norman Carl Odam, The Legendary Stardust Cowboy. Bowie covered a Legendary Stardust Cowboy song, "I Took a Trip (On a Gemini Spaceship)" thirty years later on Heathen. Rock keyboardist
Rick Wakeman
was given the opportunity to play keyboards on the album but Rick opted to join the progressive rock group Yes instead.
In 1997, Ziggy Stardust was named the 20th greatest album of all time in a Music of the Millennium poll conducted in the United Kingdom by HMV Group, Channel 4, The Guardian and Classic FM. In 1998, Q magazine readers placed it at number 24 and Virgin All-time Top 1000 Albums ranked it at number 11, while in 2003 the TV network VH1 placed it at number 48. It was named the 35th best album ever made by Rolling Stone on their list of the 500 Greatest Albums of All Time. In 2000 Q placed it at number 25 in its list of the 100 Greatest British Albums Ever. In 2004 it was placed at number 81 in Pitchfork Media's Top 100 Albums of the 1970s. In his 1995 book, "The Alternative Music Almanac", Alan Cross placed the album in the #3 spot on the list of '10 Classic Alternative Albums'. In 2006, the album was chosen by TIME magazine as one of the 100 best albums of all time. In 2005, Seu Jorge did a cover album of 14 Bowie songs, many of them from Ziggy Stardust, as a soundtrack for the movie The Life Aquatic with Steve Zissou called The Life Aquatic Studio Sessions. The translation into Portuguese is not always exact, as Seu Jorge maintains the melodies and styles, but often varies the lyrics. Musician Saul Williams named his 2007, Trent Reznor produced album The Inevitable Rise and Liberation of NiggyTardust!. In 2009, Techno Cowboy covered the entire album from start to finish using just the Omnichord called "The Ziggy Stardust Omnichord Album".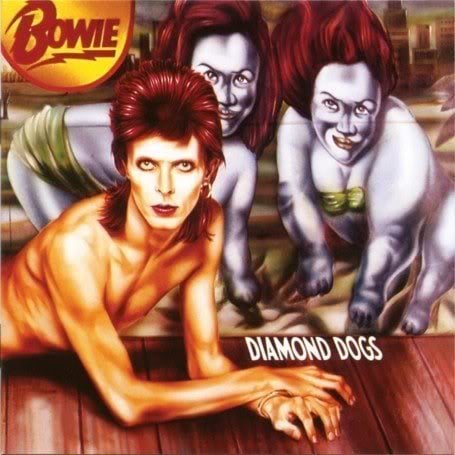 Diamond Dogs é um álbum conceitual de David Bowie, originalmente lançado pela RCA em 1974. O assunto era a natureza apocalíptica do romance 1984 de George Orwell. Bowie queria realizar uma produção cinematográfica de 1984, mas os detentores dos direitos autorais de Orwell negaram os direitos. Então Diamond Dogs foi produzido usando o material e como o título da canção mostra, o tema 1984 ainda está muito em evidência. A arte de capa no álbum original contém um animal metade cão - metade Bowie pintada por Guy Peellaert.
E para finalizar, uma parceria fenomenal do homem camaleão e uma sumidade do Blues:
David Bowie & Stevie Ray Vaughan - 1983 - Dallas Moonlight
(Texas 83)
Recorded live at Las Colinas Soundstage, Dallas, TX, USA - April 27, 1983.
Disc 1
01. Star
02. Heroes
03. What In The World
04. Look Back In Anger
05. Joe The Lion
06. Wild Is The Wind
07. Golden Years
08. Fashion
09. Lets Dance
10. Red Sails
11. Breaking Glass
12. Life On Mars
13. Sorrow
14. Cat People (Putting Out Fire)
15. China Girl
16. Scary Monsters (Super Creeps)
17. Rebel Rebel
18. I Can't Explain
19. White Light White Heat
Disc 2
01. Station To Station
02. Cracked Actor
03. Ashes To Ashes
04. Space Oddity
05. Young Americans
06. Soul Love
07. Hang Onto Yourself
08. Fame
09. TVC15
10. Stay
11. Jean Genie
12. Modern Love
13. Life On Mars (Mess Up)