Ryland Peter Cooder, conhecido como Ry Cooder (Los Angeles, 15 de Março de 1947), é um guitarrista e compositor norte-americano. Foi considerado o 8º melhor guitarrista de todos os tempos pela revista norte-americana Rolling Stone. É um músico eclético cujas composições musicais vão dos blues ao rock and roll, passando pelo reggae, tex-mex, jazz, country, folk, música instrumental, rhythm and blues e gospel. O característico som da sua guitarra, tem origem na técnica utilizada, designada por slide guitar. Participou do filme A Encruzilhada (1986), onde a maior parte das dedilhadas de Ralph Macchio foram dubladas por ele.
A primeira vez que ouvi Mr. Ry foi no filme Paris, Texas. O slide lento e profundo chamava muito a atenção.
Seguem meus discos preferidos:
A Encruzilhada conta à história de um cara, que aprendeu a tocar guitarra em uma universidade renomada de música e que acaba caindo na estrada ao lado de um velho gaitista negro, em busca das músicas inéditas do bluesman Robert Johnson. O garoto é interpretado por Macchio e o filme tem uma participação muito especial de Steve Vai, no final, em um monumental duelo de guitarras em que o som que sai da guitarra de Macchio vem, na real, do mestre Ry Cooder. O filme é um belo tributo às raízes do blues, tem direção de Walter Hill - um dos cineastas mais rock'n'roll da década de 1980 - e toda a trilha tem blues elétrico de Ry Cooder. Trilha sonora completa, incluindo o grande duelo final com Steve Vai.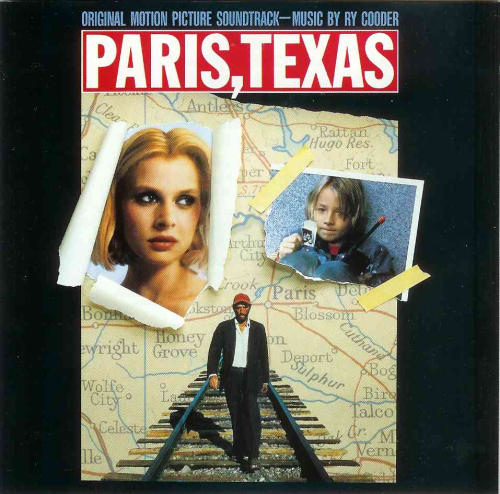 Paris, Texas is a 1984 American drama film directed by Wim Wenders and starring Harry Dean Stanton, Dean Stockwell, Nastassja Kinski, and Hunter Carson. The screenplay was written by L.M. Kit Carson and playwright Sam Shepard, and the distinctive musical score was composed by Ry Cooder. The cinematography was by Robby Müller. The film was a co-production between companies in France and West Germany, and was filmed in the United States. The plot focuses on an amnesiac (Stanton) who, after mysteriously wandering out of the desert, attempts to revive his relationship with his brother (Stockwell) and seven-year-old son (Carson), and to track down his former wife who abandoned their family (Kinski). At the 1984 Cannes Film Festival, the film unanimously won the Palme d'Or (Golden Palm) from the official jury, as well as the FIPRESCI Prize and the Prize of the Ecumenical Jury.
E segue um Bônus para quem gosta de Blues e Slide:
SLIDE IN!!!!