Easy Rider é um filme americano de 1969. Conta a história de dois homens que viajam de moto, sem um destino definido, buscando a liberdade e sempre sob o efeito das drogas. Um filme que busca retratar o estilo sexo, drogas e rock and roll daquela época. Trilha sonora espetacular.
Easy Rider is a 1969 American road movie written by Peter Fonda, Dennis Hopper, and Terry Southern, produced by Fonda and directed by Hopper. It tells the story of two bikers (played by Fonda and Hopper) who travel through the American Southwest and South. The success of Easy Rider helped spark the New Hollywood phase of filmmaking during the early 1970s. The film was added to the Library of Congress National Registry in 1998. A landmark counterculture film, and a "touchstone for a generation" that "captured the national imagination," Easy Rider explores the societal landscape, issues, and tensions in the United States during the 1960s, such as the rise and fall of the hippie movement, drug use, and communal lifestyle. Easy Rider is famous for its use of real drugs in its portrayal of marijuana and other substances.
Easy Rider is the soundtrack to the cult classic 1969 film Easy Rider. The songs that make up the soundtrack were carefully selected to form a "musical commentary" within the film. The album of the soundtrack was released by ABC-Dunhill Records in August 1969 (catalog no. DSX 50063). It peaked at #6 on the Billboard album charts in September of that year,[citation needed] and was certified gold in January 1970.
01 "The Pusher"
Steppenwolf
02 "Born to Be Wild"
Steppenwolf
04 "Wasn't Born to Follow"
The Byrds
05 "If You Want to Be a Bird (Bird Song)"
The Holy Modal Rounders
06 "Don't Bogart Me"
Fraternity of Man
07 "If 6 Was 9"
The Jimi Hendrix Experience
08 "Kyrie Eleison/Mardi Gras
The Electric Prunes
09 "It's Alright, Ma
Roger McGuinn
10 "Ballad of Easy Rider"
Roger McGuinn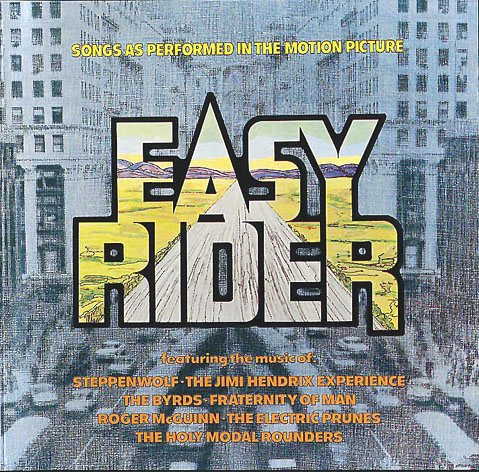 01 "Pushin' Too Hard"
The Seeds
02 "I Had Too Much To Dream (Last Night)"
The Electric Prunes
03 "(We Ain't Got) Nothing Yet"
Blues Magoos
04 "San Franciscan Nights"
Eric Burdon & The Animals
05 "White Rabbit"
Jefferson Airplane
06 "I Can See for Miles"
The Who
07 "A Whiter Shade of Pale"
Procol Harum
08 "Groovin'"
The Young Rascals
09 "High Flyin' Bird"
Richie Havens
11 "You Ain't Going Nowhere"
The Byrds
12 "Time Has Come Today"
The Chambers Brothers
13 "With a Little Help from My Friends"
Joe Cocker
14 "Summertime Blues"
Blue Cheer
15 "Nights in White Satin"
The Moody Blues
16 "Mendocino"
Sir Douglas Quintet
17 "Get Together"
The Youngbloods
18 "My Uncle"
The Flying Burrito Brothers
19 "Something in the Air"
Thunderclap Newman